PRODUCT INFORMATION
Returns & Exchanges
PRODUCT INFORMATION
Ett vackert grönt schabrak med silvriga detaljer. Fin logga i SILVER på båda sidor om schabraket. Schabraket är utrustat med "quick dry" material på insidan för att hålla hästen torr från svett och minimera riskerna att schabraket glider.
Schabraket har en ny funktion som gör att du enkelt ta bort kardborrebandet till sadelstropparna beroende på vilken sadel du använder. Bandet fästes runt D-ringen med kardborreband. Om inte D-ringen önskar går det att knipsa bort den helt. Schabraket matchas med fördel tillsammans våra produkter från kollektionen Olive Green.
Storlek: Full
Logga: Silver hårdmetall

Tvätt: 30 grader, bör ej torktumlas
Returns & Exchanges
Retur och Byte
Behöver du göra ett byte av storlek eller en retur klickar du på länken nedan för att registrera din retur eller ditt byte. Observera att du endast kan byta storlek, inte byta till ny produkt eller färg. När du har fyllt i alla uppgifter kommer du få möjlighet att skriva ut returfraktsedel. Vi erbjuder gratis byten en gång per nylagd order och vid retur debiteras du 49 kr. När du skrivit ut din returfraktsedel tejpar du ihop paketet och lämnar in hos närmaste postombud. Har du några frågor är du välkommen att maila till support@zaczess.com. 
Vi erbjuder även returhantering från nedanstående länder. Klicka på det land du vill returnera från för att komma till rätt returportal. Returkostnaden är 10 €.
Finns inte ditt land med så kan paketet returneras till nedan adress. Kund står då för eventuell returkostnad:
ZacZess AB
Ärnavägen 85
75594 Uppsala
Recensioner
Skriv en recension
Ställ en fråga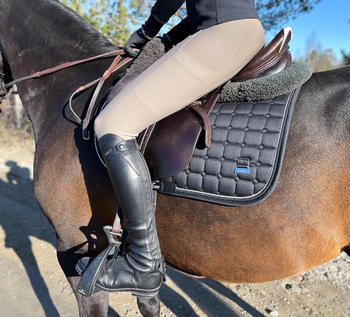 05-05-2022
Prisvärt schabrak
Stabilt och bra passform, ligger bra under sadeln och dessutom väldigt snyggt och stilrent
Linda S.

Sweden
03-09-2022
Bästa schabraket jag äger!
Ligger så bra under sadeln, känns att det är hög kvalitet och supersnygg färg som passar så fint på min häst! Har fått fina kommentarer om schabraket från andra också!
03-09-2022
Klassisk snygg
Men wow vilket schabrak. Extra plus för att man kan ta av stroppen man har runt sadelgjords stroppen
Camilla R.

Sweden
26-08-2022
Olive jump
I love this saddle pad! It sits really good on my horse and it doesn't slide back like a lot of others do. It is a really pretty color too! I would love to send a picture too but I don't know how.
Linnea C.

Sweden
25-08-2022
Olive dressage
Såå snyggt schabrak! Passar alla olika färger på häst. Det glider inte heller, och passformen var perfekt! Extra nöjd över att man kan välja att ta bort kardborrbanden!
Nova P.

Sweden
21-02-2022
Otroligt fint!
Köpte det som födelsedagspresent, hon älskade det! Stabilt och snyggt, helt perfekt dressyrschabrak!